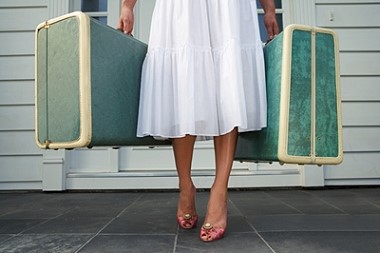 Travel like a Celebrity on a Waitress budget
I have just spent an awesome week/ weekend in lovely Sydney and on a fantastic budget! I climbed the Sydney Harbor Bridge, ate at some pretty nice restaurants, stayed in a four star hotel, went shopping and had a load of fun! "How did I do this?", you may ask. Well, apart from the fact that a) my boyfriend lives in Sydney b) I've also lived in Sydney and therefore know where to go for 'budget' activities and meals, I am also a MAJOR
budgeter
. I love researching cheap activities, places to eat, tours, sightseeing, shows etc. I get a great feeling from SAVING! This means more $$ to put towards clothes shopping.
So I thought I'd list a few 'hints and tips' on budgeting when traveling within Australia (I guess this could also apply to traveling in general).
Research, research, research

Set a realist budget and stick to it
Use

webjet.com.au

as a guide to flight prices but book through individual airline websites (e.g. if you see that Jetstar is the cheapest, book on Jetstar's website.) This will save you the fee that Webjet charges.

Between 12- 1pm Weekdays- Happy Hour at

Virgin Blue

Carry on bags- saves you an extra $10 - $20 pp. If there is 2 or more traveling I suggest to purchase 1 checked luggage that you can all share.

Bring your own water, food and something to keep you entertained during the flight- water usually costs $3.50 at the airport!!!
Sunday nights are 'cheap nights' (except for long weekends)- so ask your work if you can take the Monday off

Sites:

lastminute.com

,

wotif.com

,

ubid4rooms

,

readyrooms.com.au

,

hotels.com.au

,

hotelclub.com.au

Lastminute.com and wotif.com both offer Mystery Hotel packages, which will tell you the star rating, area, facilities and what the packages include- this is fantastic if you a) know the area b) like surprises (I recently booked a Secret Hotel package with Lastminute.com in Sydney for only $99 per night at a 4 star hotel and included a bottle of bubbly- well it turned out to be

The Menzies

, which usually costs $180 per night! Yay me!)

To make sure you get the best possible rate call up the hotel and ask for 'best rate guarantee'
Backpacker/ Youth Hostels

: is great if there is a large group of you and you don't mind sharing facilities. Also great way to meet people between 20- 35 from all over the world.

Camping

: pitch a tent, light a fire and get those marshmallows out! Great for romantic getaway, family trips, and exploring the wilderness. Majority of campsites offer onsite BBQs, bushwalking tours, clean facilities and swimming pools

Family/ Friends

: visit long lost relatives, family friends, old school friends .... you get the picture. Get in touch and let them know that you'll be in the area- if they don't offer a place to stay they will almost certainly offer for you to come over for dinner. Remember to bring a bottle of wine or a gift with you to say 'Thanks for letting me stay'.

House swap

: do you own a house? If so check out this website

Home Xchange Vacation,

Think Cameron Diaz and Kate Winslet in

The Holiday

House Sitting:

check out when your friends/ family are going away and offer to watch after their house while their away. Or you could check out

House Minders

, there is a small fee but you get to stay at someone's house virtually free! WOO HOO!
Lunch is cheaper than dinner

Buffet Breakfasts- check if your accommodation includes complimentary breakfast. 'Breakfast is the most important meal of the day!' Also you can always sneak a few muffins or fruit in your purse for later.... shhhh!

Supermarket- check out your nearest supermarket and pack some snacks in your bag for when you get hungry. If there is a kitchen in your accommodation try cooking up a meal or two... this will definitely ensure you save some mula for a couple of beverages later.
Car Hire websites:

vroomvroom.com.au

,

drivenow.com.au

or

standbycars.com

Hint: instead of paying excess for car hire get out travel insurance instead. Check it out at

travelinsurance.com.au

, this will also cover you for hospital, theft, life insurance etc.

Public transport: great for sight seeing, and super cheap because you can get weekly tickets and concession cards

Taxi: be careful late at night and know where you need to go before you get in, you'll be surprised at how many taxi drivers don't know where the city is!
Events & Festivals: check out what events/ festivals are on in the area, most are free.

Markets: local crafts, home-grown food and performances- what a great way to enjoy the day

Museums, art galleries, monuments, parks ... most places offer a 2 for 1 deal or are free!

Board games: crack open Monopoly or even Scrabble and let the games begin!
Corporate deals:

check with your work to see what corporate discounts they have, they are free for companies to join and if they haven't already got one why not be proactive and look into it yourself! Trust me, you'll make a lot of friends in the company.




eNewsletters

: subscribe to newsletter for holiday websites, car sites, airlines, hotels etc.

Hint:

to stop your inbox from filling up, create a separate email account for subscriptions.

Coupons/ Dockets

: check the back of your supermarket receipts or check out

hotdockets.com.au

or

entertainment books

for great savings on dining, accommodation, flights, tours, theme parks etc.
Hope that helps you as much as it has helped me! Happy holidays!